Do Something Great Today!
Joining a martial arts class can add benefits to your day! Here are a few things that you will gain from training in martial arts…
Improved Self-Esteem: With confidence comes enhanced self-esteem. We utilize a series of multiple goals that boost self-esteem levels. This builds greater self-respect and self-esteem in our martial arts students. Please note: Our martial arts instructors turn most quiet, shy and doubtful beginners into strong outgoing leaders that become powerful practitioners.
Increased Self-Discipline: The foundation of martial arts is the focus of self-discipline incorporated into a students training. Instant gratification and the "I want it now" attitude hold people back from achieving true success. Self-restraint and self-discipline are learned traits for both children and adults. And they are central to what and how we teach."
Developed Sense of Respect: Our students learn to show attention and respect to themselves and others. In this modern and fast-paced world too often we see the lack of self-respect for oneself or others. We are proud of our martial arts students and the respect shown within the community. Through quality training, our students carry on a high level of respect.
Throughout the month of June, our karate dads joined their students in class. Along the way, they had the opportunity to experience these benefits and more. Do something great today! If you are interested in trying a martial arts class, give us a call at (815) 254-6141 to activate your VIP Pass for 2 Weeks of FREE classes!

Special Mention
Look Who Joined TM Martial Arts Academy!
Cameron Dreher, Benjamin Strauss, Alfredo Chavez Cazares, Kerani Vargas, Henry Antwi, John Antwi, Zayden Clyne-Lunda, Kaleb Perales, Zoe Bentanzos, Alic Bentanzos, Sarah Knudsen, and Benjamin Strauss
Look Who Committed to Black Belt Training!
Aliani Morales, Artiom Prunici, Sarah Knudsen, Jacob Herrington, Daniel McMicken, Nathaniel Martinez, and Kingston Clemmons
July Attendance Challenge!
The best way to reach your Black Belt goals is to train consistently! So for the month of July, every attendance will count as a raffle entry. At the end of the month, one lucky raffle winner will win FOUR tickets to Six Flags!!
See you in class, ninjas!
Summer Skills Camp!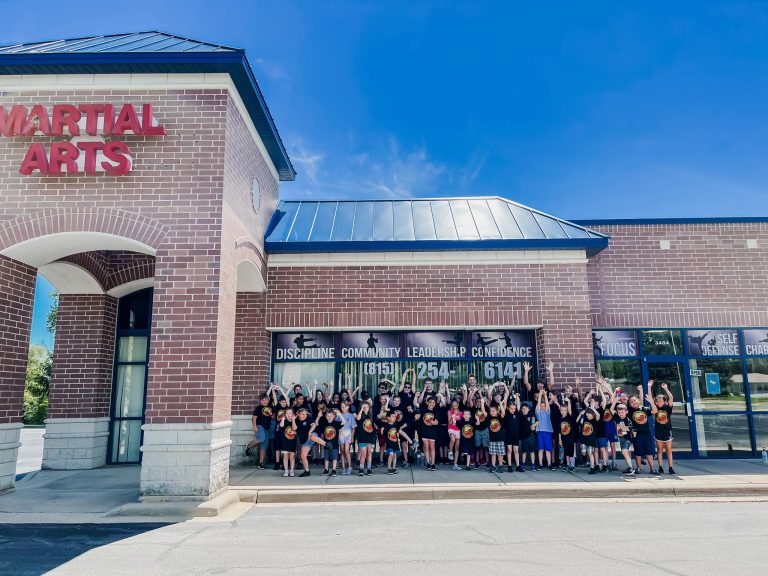 Don't miss the most exciting 2 weeks of summer!
Beginners welcome – NO EXPERIENCE NECESSARY!
Accelerate your training for a faster progression to Black Belt.
Bonus self-defense/anti-bully skills.
Fun games, drills, and craft activities.
Attend 1 week to supplement current training or 2 weeks to advance a belt level:
WEEK ONE: July 24 – July 28
WEEK TWO: July 31 – August 4
*Space is limited! Call (815) 527-3947 for more info or pick up a registration packet at the front desk.
Annual TM Martial Arts Picnic
TM Martial Arts students & families… You're invited to our Annual TM Martial Arts Picnic, Saturday, July 29th! Join us for a potluck-style lunch, water balloon fight, and fun in the sun!
When: Saturday, July 29 @12pm-3pm
Where: Van Horn Woods (West):  17201 S Lily Cache Road, Plainfield, IL, 60586
What to bring: Please sign up at the front desk to let us know how many people will be attending and if you will bring a side dish, dessert, or drinks to share (hotdogs and hamburgers will be catered).
* Every year we invite students and instructors to bring pre-filled water balloons to contribute to our HUGE water balloon fight! All are welcome to join!
Shorewood Crossroads Fest Parade
Mark your calendar! We invite students and families to join us at the Shorewood Crossroads Fest Parade on Sunday, August 6th! We hope you'll come out to represent TM Martial Arts Academy in the community 😎

Please arrive no later than 11:00AM to line up with your classmates (and avoid road closures). Wear FULL UNFORM. The parade will begin at 12:00PM on Geneva at Ravinia, then travel west on Geneva and turn South on River Road. The parade will then turn west on Seil Road and end at the intersection of Seil Road and Wynstone Drive.
Mark Your Calendar
July 1 – 2023 ESCRIMA STICKS SEMINAR FEAT. GURO JULIUS MELEGRITO
July 4 – CLOSED, HAPPY INDEPENDENCE DAY!
July 8 – LEADERSHIP INSTRUCTOR TRAINING MEETING @1:30PM
Monthly meeting to sharpen your Leadership Skills! 1:30pm-2:30pm
July 29 – ANNUAL TM MARTIAL ARTS PICNIC!
Saturday July 29 @12pm-3pm
Van Horn Woods (West):  17201 S Lily Cache Road, Plainfield, IL, 60586
July 24-28 – SUMMER SKILLS CAMP, WEEK ONE
July 31-Aug 4 – SUMMER SKILLS CAMP, WEEK TWO
August 5 – SHOREWOOD CROSSROADS FEST. All students are invited to walk in the parade with us!
August 12 – LEADERSHIP INSTRUCTOR TRAINING MEETING @1:30PM
August 14-18, 21-24 – BELT TESTING, by appointment only
August 19 – BASIC BEGINNER NUNCHUCK SEMINAR, more info coming…
August 26 – BELT PROMOTION CEREMONY, times based on belt level
August 31 – BLACK BELT PREP PARENT MEETING